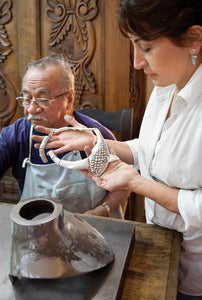 About Emilia Castillo
Emilia Castillo, a second generation designer, born in Taxco, Mexico, where she grew up surrounded by an exotic environment filled with beautiful plants and animals, each piece she creates is an inspiration of her surroundings and a playful mixture of metals and natural elements such as, lapis lazuli, jasper, turquoise, malachite, onyx and alabaster.
Each handmade piece is as beautiful as it is functional and meant to be used.
Daughter of renowned Mexican silversmith Antonio Castillo, Emilia inherited the talent and ability to create. As a child growing up in her father's workshops she found herself surrounded by talented master craftsmen, under the direction of these artists she mastered the techniques to work in silver and other metals.
At her workshops, her two daughters are now surrounnded by their own environment of creativity. In 1992, Emilia was discovered by U.S. Chain Neiman Marcus, and has continued working with them to this date. Having already won numerous awards, her one of a kind pieces have come to be known by collectors worldwide. She has also been commissioned to create many works of art around the world, including the chapel of the Virgin of Guadalupe, in St. Peter`s Basilica at the Vatican.
Our Clients
Dear Emilia,
I have had many family visitors in recent weeks and they have all been amazed by the snake you created. My grandsons have always been attracted to your creatures, which they love to handle, and the snake mesmerized them. One of them marveled at the amount of craftsmanship and was especially taken with the clever way you gave such a realistic expression to the snake's eyes, all in metal, a virtual magic trick.
Your snake lives in the entrance hall of my home where he/she can greet visitors and every time I come downstairs it catches my eye and holds it.
A very special piece of art. Thank you.